Our Kildare warehousing facility is a family run business, specialising in food service, food production, warehousing and
distribution. We consider the most important element of our business to be service, and being family run we are positioned to offer a service that is considered second to none. Customers benefit from a tightly coordinated team approach offering structured procedures for stock control combined with a flexible and facilitating approach to goods outwards and inwards.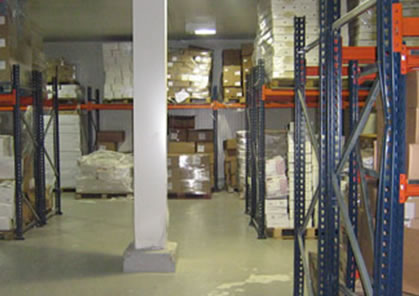 At the end of 2005 we opened a new state of the art facility meeting the highest Irish and EU hygiene directives and in late 2007 we doubled the size of this premises which now houses 1000 pallet spaces of chilled and frozen storage and 1000 pallet spaces of ambient.
All storage, distribution and production areas are refrigerated and linked to a permanent temperature monitoring system which is alarmed ensuring immediate alert should issues arise with refrigeration.
We have space to accommodate the loading/unloading of a number of delivery vehicles at any one time and focus on minimising the wait time for delivery drivers. We also have a 4000 sq foot marshalling area for picking orders, assembling or reassembling pallets.
We are licensed by the Department of Agriculture and hold our own EU plant number a standard which is only achieved by the implementation and maintenance of the highest standards of operation. This licensing allows us to open and repackage and label product to suit customer specifications.
AMBIENT WAREHOUSE NURNEY, NAAS, CO. KILDARE
Our 10,000 Sq.Ft Warehousing facility is based in Nurney which is 15 Minutes drive from Lidl Naas & Aldi Naas Co.Kildare. This fully secure unit has 4 cameras monitoring access 24 hours per day 7 days per week.
Our warehousing facility is used for the following purposes:
Within 10 miles of an Aldi Ireland distribution centre.
Accept Rejected loads from Lidl Naas & Aldi Naas.
Store exchange pallets (inc dussedorfer )for consolidation and economic return to shipper.
Re-working of rejected pallets (breakdown, re-build, shrinkwrap)
Re-delivery to Lidl Naas & Aldi Naas Co.Kildare
UK & European manufacturers and Shipping companies find our facilities invaluable; as it helps resolve the problem locally (we are less than 1 mile from Lidl). The main advantages to shippers are:
Reduces unit costs of transportation (local shunt)
Dont have to ship rejected stock back to Dublin or UK
Frees up trailer for Re-load
Allows same day re-work
Following day delivery to Lidl Naas and Aldi Naas Co.Kildare.

Additional information about our warehouse and services are:
Same Day Deliveries throughout Ireland
Next Day Deliveries throughout Ireland
Economy Deliveries throughout Ireland
AM and Timed Deliveries Nationwide
Full Load / Part Load Nationwide
General Haulage Nationwide
Load Variations 1 Carton to 32 Pallet Lots.
Machinery Transport.
Short and long term storage
Pick and Pack
Re-packing of pallets
Fleet
18 Tonne (Rigid)
26 Tonne (Rigid)
44 Tonne (Articulated Truck)
All Rigids equipped with Tail lift
Vehicle Tracking Systems installed in all vehicles
Warehousing Facilities
10,000 Sq foot of internal warehousing
1 acre of secure compound.
2 acres of hard standing trailer parking.
Within 10 miles of Lidl Newbridge RDC and 20 miles from Aldi Naas RDC
If you require any further information please contact us by clicking here. If you require a quotation please complete one online by clicking here.